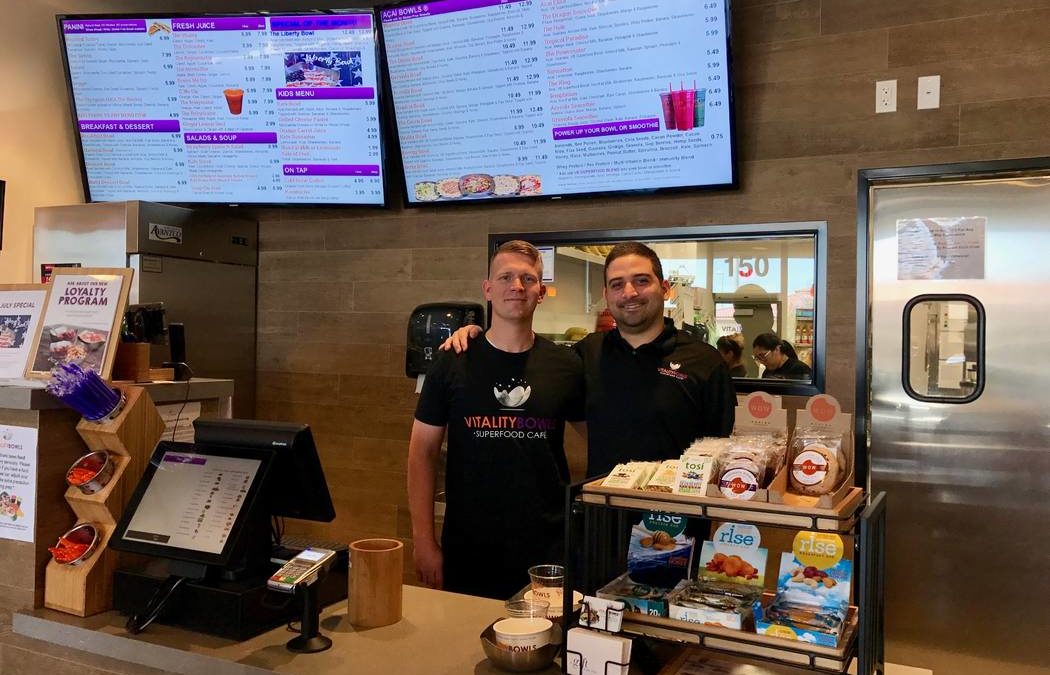 BY THE LAS VEGAS REVIEW-JOURNAL –
Acai bowls are a common sight on Instagram these days: perfectly-designed dishes of layered fruit and granola on top of blended frozen berries, drizzled in honey and sprinkled with granola, coconut chips or chia seeds.
While smoothie and health-food joints such as Jamba Juice have added a few acai bowl options, several fast-casual restaurants recently have popped up with the acai bowl at the heart of the menu. Eager to get in on the trend, Antonio Mesquita and Charlie Belcher have opened Vitality Bowls, in the Albertson's shopping center at Blue Diamond Road and South Decatur Boulevard.
It is the franchise's first location in Nevada — another is set to open in North Las Vegas in August — and offers 10 meal-sized bowl options. Vitality Bowls also has offers paninis, fresh juices, salads, soups and smoothies. Medium (20 ounces) bowls are between $9 and $12, and large bowls (28 ounces) are between $10.50 and $13.50.
The company was founded in 2011 by Roy and Tara Gilad of San Ramon, California, after discovering that their daughter had severe food allergies. The company began franchising in 2014 and has over 40 locations across the U.S.
Belcher, a recruiter for the National Guard, was attracted to the health benefits of the fresh fruit and vegetables in the blended bowls. Mesquita, originally from Brazil, said acai is popular in his home country.
One of the most popular items on the menu, Belcher said, is the namesake "Vitality Bowl." The base consists of blended blueberry, pomegranate, acai, moringa, camu camu, mangosteen and aronia, and it's topped with granola, sliced bananas, honey, flax seeds, strawberries and goji berries.
Another favorite is the "Nutty Bowl," which is blended with a hearty helping of peanut butter and almond milk.
Vitality Bowls has about 15 employees. Half of them are recruits of Belcher's from the National Guard. The business partners said they want to open more Vitality Bowls locations across the valley, including Summerlin and Henderson, and Belcher said he hopes to hire more recruits and veterans as they expand.
The chain also offers a rewards program. For every dollar spent at any Vitality Bowls location, customers earn one point; 100 points can be redeemed for $10 off an order.