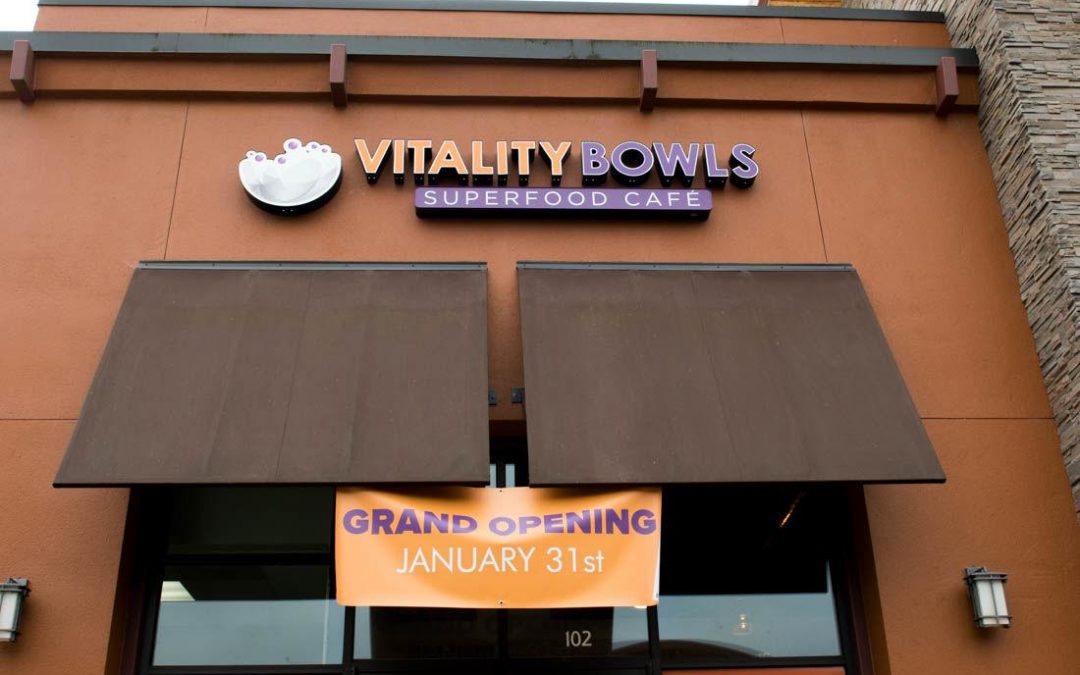 BY DAILY EMERALD – Eight years ago, Vitality Bowls originated in Northern California and set out with one menu item and a goal in mind to create a healthy, fulfilling meal. Founders Roy and Tara Gilad stumbled upon the idea for a superfood restaurant when they were struggling to find somewhere that accommodated their daughter's severe food allergies. Since 2011, Vitality Bowls has expanded across the country to over 60 locations; their next one is opening in Eugene on Jan. 31 within the Coburg Station on 440 Coburg Rd.
The owner of the soon-to-be-opened supercafe is Sweet Home native Jessica Hufford. Hufford now lives in the Coburg area and wanted a restaurant in her community that made a difference by introducing delicious, healthy food options into the area. Similar to the founders, Hufford got involved with Vitality Bowls because of her dietary restrictions and the need for more places that had a transparent menu.
"The first time that I ate [at Vitality Bowls] I knew that this was what I wanted to do. I knew right away," Hufford said. "I really appreciate their mission in creating a healthier community."
Hufford and the Gilad's reference to Vitality Bowls being "transparent" pertains to the extensive list of any and all ingredients inside each item, listed right there on the menu. Nothing is ever pre-made and cross-contamination is avoided by making sure everything is made fresh to order. Hufford said it is important for customers to know what is in their food so they can be educated while ordering and make an informed decision that benefits their health.
"You can add or change anything in your item that you choose," Hufford said.
Vitality Bowls was first centered around Açaí bowls and the item remains the most prominent option on the menu.
The amount of fresh ingredients in açai bowls is exhaustive. The base can be blended with any combination of fruits and vegetables along with the option of seeds, boosts and more. The bowl is then topped off with a choice of granola, honey, bee pollen and/or berries, among other options.
"There's really nothing else in Eugene that offers the same level of superfood ingredients," Hufford said.
Hufford decided to partner with Vitality Bowls as opposed to other superfood options because of the diversity of the menu. Not only does the supercafe have açai bowls, but they also offer salads, paninis, soups, smoothies, juices and coffee. They carefully source their ingredients and prioritize serving only the best and healthiest superfood options.
According to Hufford, açai berries actually have 15 times more antioxidants than blueberries — that's what makes the bowls so "super." While the science is still out on whether antioxidants are the all-encompassing cure to cell damage that can lead to any number of diseases, the US Government recommends eating the fruits and vegetables that are often associated with high antioxidant levels.
The claim is that antioxidants can help fight "free radicals," which are chaotic cells that can be created from smoking, pollution, sunlight and exercise. These free radicals are said to cause cell damage that can lead to cancer, Parkinson's Disease, Alzheimer's Disease and nearly any disease or condition imaginable.
Multiple double-blind studies, The Women's Health Study and The Women's Antioxidant Cardiovascular Study,both sponsored by the National Center for Complementary and Integrative Health couldn't prove these claims to be true. Still, this is not to say that açaí berries and foods similar aren't indeed healthy and beneficial.
Vitality Bowls serves 14 different açaí bowl combinations, 13 fresh fruit-blended smoothies, nine freshly-squeezed juices, five panini options, two salad options and a rotating soup option; they also offer pour over coffee. Panini choices range from a steak sirloin sandwich with mozzarella, onions, spinach and Dijon to a more adventurous sandwich with bananas, peanut butter and honey.
With the city-sponsored ribbon cutting of Vitality Bowls happening on the morning of Jan. 31 at 11 a.m., it won't be long until the trend of superfood sweeps through Eugene.