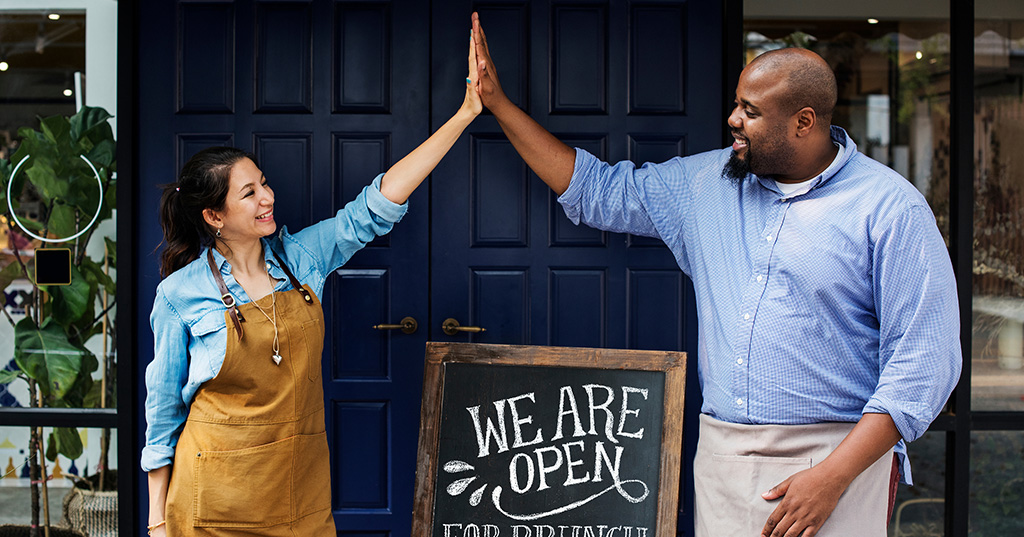 BY FRANCHISE UPDATE MEDIA – Nothing beats the anticipation and excitement of a grand opening. It begins as soon as neighbors spot construction activity in an empty lot, or peek inside a vacant storefront to see what's coming. Speculation builds until the first signs go up announcing the name of the new business, and interest escalates further with the announcement of an opening date. When the doors finally open, momentum that's been building over months has customers and local businesses eager to come in to meet the new kid on the block.
Among the critical factors in a successful grand opening are knowing how much time is needed to build that momentum; where to turn for effective ideas; and what to include and what to avoid. We asked six franchisees with a track record of successful grand opening to share some of their most recent experiences–and, of course, their key takeaways.
Timing is everything
Matt Rusconi recently opened the first freestanding location of Artichoke Basille's Pizza, with seating for 35, in Newington, Connecticut. It's the brand's first location in the state and the first of five he has signed on to develop in Connecticut. Rusconi, who has completed more than 20 grand openings, has learned that success always starts with collaboration.
"You spitball around ideas," he says. Some may come from the franchisor, others from franchisees. Keeping things local is always a good idea, he says. Partnering with a community organization like a local high school, sports team, hospital, or charitable group for a soft opening event is a proven, time-tested tactic.
"The best partner you will ever have is the community you're in," says Rusconi. And it's a great way to meet your new neighbors and future customers. "You get to see who you will be serving right off the bat, contribute, and feel very lucky to have a platform to give back." Involving the press always is a good idea, ensuring that your messaging reaches the larger community.
The time of year also can influence the success of a store's first day. "Opening around Thanksgiving, for instance, is difficult," he says. "Everybody is so busy. People are much more likely to come in during the slowdown after the holidays when your opening can give them something exciting and new." Rusconi learned that lesson the hard way when he opened a location in a college town right before the Thanksgiving holidays. It did not go well. For his Newington store opening, the time of year provided a natural tie-in. "We opened on Valentine's Day and came up with a sweetheart special–two slices and two sodas for $9. It worked!"
Figuring out when to do what may be determined by a brand's policies. But ultimately, says Rusconi, "You pick a day, hold your breath, and cross your fingers. This year, we had a snowstorm on the Tuesday before our soft opening Wednesday."
Another important lesson he's learned over the years is to build in some extra time before an opening. "Getting right down to the wire is not fun," he says. "I've learned over the years that it's good to give yourself an extra week or two. It pays dividends in the long term."
After the dust settles from the grand opening excitement, he says, "Make sure you stay relevant." Working with your franchisor's marketing team and field support staff should make that easier.
Who doesn't like free?
Halle Waggoner, an Amazing Lash franchisee in Cypress, Texas, has been on a fast track for grand openings since October 2016. This May, she will have racked up her sixth, so has had multiple shots at working out the kinks. With Amazing Lash, her grand opening plan became a little bit franchisor, a little bit her.
"They say, 'Here's the budget for you to spend, and here's the list of some grand opening activities.' But making the party happen is what I do," says Waggoner. She has her surefire tools: local advertising in magazines and small newspapers; social media postings, including Facebook Live; and working with local radio stations on grand opening promotions.
"We also go to anyone who is around us to ask if they want to be part of our grand opening in some way. We give donations and we do giveaways, like 'Walk up and spin to win a free set of lashes.' Free lashes are the most popular. Who doesn't like free?"
Waggoner also has learned that her franchise is suited to a multiplicity of extras for grand opening pizazz. For example, she can station someone special in each lash room: a chiropractor, a masseuse, a henna artist, a face painter, a balloon artist. At one opening, she had a student chef out front making sushi rolls. Once she even served champagne. And, depending on the time of year, she'll throw in something seasonal. For a grand opening thanear Christmas, Santa Claus was on hand.
As for when to begin preparing for a grand opening, she says, "I might have figured that out after six grand openings–90 days is perfect."
Spreading the excitement
Judy Dredge is a Canadian franchisee of 9Round Fitness, a kickboxing concept that sends clients through workout stations in a 30-minute routine. Nearly 800 9Round locations are open in 42 U.S. states and in 17 countries in Europe, the U.K., Asia, and Middle East.
Dredge credits 9Round's Thao Tinsley with helping her design grand opening and open house strategies, tactics, and ideas. "She was my 9Round onboarding business coach, and an amazing one at that!," says Dredge. Tinsley also guided her with the timing of the grand opening process. "That made our planning so much easier and less stressful," says Dredge. In addition, 9Round's digital agency, On Ideas, helped run her pre-sale campaign.
When a large number of pre-sale members signed up before one opening, Dredge decided to do three days of open houses so the event wouldn't be so crowded. "In the open houses we had members pick up their gloves, wraps, and purchase heart rate monitors. They also had a chance to learn how to wrap their hands and see what we were all about," she says.
She also delayed the official grand opening ceremony for a month. "That month open gave us a chance to get our name out in the community and get more interaction for the grand opening and ribbon-cutting event," she says. To attract additional interest, she supplied prizes and refreshments.
"People love free stuff, so the more we gave away, the more people became interested and engaged in who we were. We did a lot of social media posts for giveaways leading up to our opening, and that was a huge hit! The engagement on social media was a big thing for us."
Another plus for Dredge was the brand itself. "We were bringing something new to our community, and so many people were wondering who and what we were that the most successful element was to be real, positive, and excited for what were about to offer," Dredge says.
"There is no other 9Round near our community. Most people had no idea what we were going to offer, and we really didn't know everything we had to offer. That meant we relied on the help of our onboarding coach and then ongoing coach to answer all my questions to make sure our members knew how amazing this was going to be."
As for timing, Dredge says she won't make even the smallest promise about when she thinks her next opening will happen. "That was the most stressful part," she says. "Our contractors were behind and I had to push our opening two weeks. Although most people understood the situation, it was stressful for me because I had told them a date!"
A little bit of everything
When we spoke with Josh Willingham, he was planning an April opening for his second Vitality Bowls cafe in Frisco, Texas, less than two years after he launched his first there. For grand opening ideas, he turned to Uriah Blum, vice president of business operations at the franchisor, Stephanie Boone, his field representative, and to a few business owners he knew. He ended up deploying a long list of pre-opening tactics.
"We did mailers, marketing, visiting businesses in the same shopping centers or shopping centers across the street," says Willingham. "We did a lot of flagging of cars with flyers, got involved with the local chamber of commerce, local events, and had aid from our public relations firm."
The opening featured a ribbon-cutting ceremony with the chamber, which Willingham says he will do that again because it brought in a lot of people. He also offered discounts. The first 50 bowls were free, and then it was buy one get another for half price the rest of the day, which was very successful. "The line was out the door for the 50 free bowls. We had giveaways as well. And my wife and I made a point to meet as many customers as possible."
Once again, "free" had great appeal. "There was a great reaction to free bowls and a very good reaction to 'Buy one get one 50% off,'" he says. "The reaction to meeting the owners was also positive. We got to tell people our journey to opening Vitality Bowls."
Next time, says Willingham, "We are going to try to make it even more of an event. We might bring in a face painter or a balloon artist or maybe even a live band to drive traffic."
Teamwork works
In March 2018, Allen Pinero opened the first franchised Blink Fitness location. Blink had had already opened 70 corporate locations. The 16,000-sq.ft. club, in Lindenhurst, New York, is the first of six New York and New Jersey area clubs Pinero will co-own.
He began with grand opening advice from corporate about the best ways to roll out the event, including the importance of training his employees on Blink Fitness standards. He got help with grand opening supplies, such as the ribbon and scissors, from marketing and communications agency The Brand Amp. To complete the team, Pinero says, "Our internal marketing managers took control of hiring a photographer, DJ, decorations, balloon stands, promotional materials, preparing speeches, and time management."
To give the grand opening a good, strong connection to the community, he says, "For our pre-sale, we invited the Lindenhurst Chamber of Commerce, local town officials, nearby business owners, local PTA representatives, and nonprofit organizations that we worked with," he says. "We also wanted to make it an inclusive celebration for the town. We wanted to show the impact we would have in changing people's lives in the community."
He had a nice long lead time, too. "Pre-sale efforts lasted about four months, with about two months of preparation for the grand opening event itself. We made sure our gym model reflected the standards Blink Fitness required by looking into proper positioning for retail items, equipment, and a reliably full supply of stock. At two months before the event, we contacted town officials and remained in contact with other local partners as we got closer to the event date." This pre-sale build-up created relationships that boosted the popularity of the opening event, says Pinero.
It all worked out quite well, he says: people posed for photos, a local paper printed a photo of the ribbon-cutting ceremony, and the face-to-face interaction was overwhelmingly positive. "We were very excited by the warm reception we received from the community," Pinero says. "It gave our team a chance to interact with corporate employees and our new members."
The staff handed out promotional gifts to members from the gym's fitness equipment vendors, which Pinero says was a great way to kick off the relationship. One item was a Long Island Blink Fitness t-shirt made just for members.
Pinero is already thinking about what he might add to his next pre-sale and grand opening event. "I might consider reaching out to a local radio station and asking them to come down to the event to create more hype. I would like to invite local businesses to set up tables and promote their products and services in-house so we can draw relationships from each other."
The best-laid plans…
FirstLight Home Care franchisees Bruce Lundeen and Bryan Carto led the brand's expansion into greater Genesee County, Michigan, last November. Lundeen has the advantage of a background in marketing, PR, and admissions earned after nearly 30 years of working at a local college. Several family members also worked in the healthcare field, including his father, who was a physician.
When it came time for their opening, the partners tapped into their own marketing know-how, with media outreach assistance from FirstLight. Their to-do list included a postcard design, an invitation list, and the use of social organizations like the local Council on Aging and Chamber of Commerce.
One hiccup: the opening was held at a local bar. Despite two and a half months to prepare, construction was not completed by the grand opening date. Nonetheless, the event attracted 75 to 100 people, helped by the chamber's enthusiastic embrace of the opening. "There was a lot of excitement," says Lundeen. "We raffled off a TV and other prizes, and that was a big hit."
Lundeen and Carto are hoping their next grand opening will be different in one major respect. "While the bar was a fun atmosphere for the event, we really wish the construction had been complete on the office so we could have had the event there," says Lundeen. "It would have felt more like a welcoming of the actual new business."