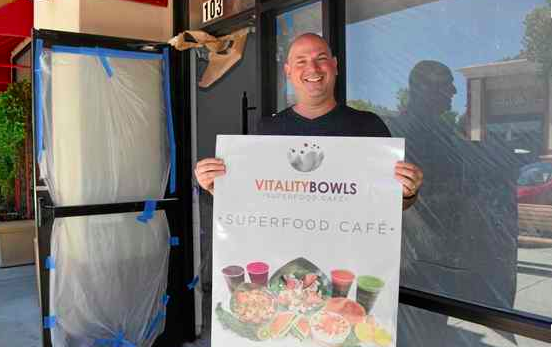 BY THE VACAVILLE REPORTER – Ivan Alan had always tried to eat healthy, but he admitted he doesn't like the taste of soy, wheatgrass or tofu.
Then he found out about Vitality Bowls, and tried one of their acai bowls at the Pleasanton mall.
"It actually tasted good, it had flavor and it was healthy," he said.
Since getting involved with the company in 2016, he said he has lost 20 pounds and has more energy. There are still the stresses of owning multiple franchises — and building a new one in Vacaville — but Alan said he feels capable, and not weighed down.
"Now I can really eat healthy and enjoy my food as well," he said.
Alan is planning for an Aug. 9 opening of the Vacaville cafe in the Nut Tree Plaza at the former Subway, 1631 East Monte Vista Ave., Suite 103.
This will be his second Vitality Bowls cafe. He opened his first in Berkeley in September 2017.
He is also the franchise owner of Edible Arrangements at the Nut Tree and his manager over there, Olga Dernova, will manage the new cafe.
Edible Arrangements is a healthier gift choice than regular chocolates, he pointed out, and he wanted to expand.
Vitality Bowls specializes in acai bowls, which contain a thick blend of the antioxidant-rich berry, topped with a variety of "super foods."
On the menu are a wide variety of these, including graviola, acerola, mangosteen, camu camu, spirulina, aronia, moringa, maca and bee pollen. There's the Green Bowl with organic graviola, spirulina and hemp seeds, the Dragon Bowl with organic pitaya, coconut milk and bananas and the signature Vitality Bowl with organic açaí, strawberries and honey.
A concentrate of the super foods are combined with apple juice, almond or coconut milk, Alan elaborated, and you can toss in other foods like kale, pineapple, blueberries or raspberries before that mixture is frozen and blended into a thick base.
They top that with granola, almonds or fresh fruit, which gives it a nice balance because the bowl has crunch but also a smoothie texture, Alan said.
Fresh juices, smoothies, soups, paninis and salads are also available, and there will be a coffee bar serving espresso and drinks packed with açaí, pitaya and matcha like the Açaí Latte and the Superfood Mocha.
Organic cold brew nitrogen-poured coffee and organic kombucha will be on-tap.
The cafe is focused on not only health-conscious eating, but on people who have dietary restrictions, including lactose intolerance, allergies and diabetes.
Tara and Roy Gilad started the concept in 2011 in San Ramon after learning of their daughter's severe food allergies, and wanting to find safe and healthy food alternatives.
There are no-sugar, no-dairy and non-GMO options, and nearly the entire menu is organic, Alan said.
In the kitchen, they make every effort to avoid cross-contamination so that an allergen does not come in contact with the order of a customer with an allergy.
Alan, who lives in Walnut Creek, said he and his family have loved coming to the Nut Tree since he took over the local Edible Arrangements franchise in 2014.
"The Nut Tree Village is amazing because it's got the trains over there," he said. "My kids love it."
Berkeley may have its steady group of so-called "health nuts," but Alan feels there are definitely people concerned with eating well in Vacaville, Dixon and Fairfield who will be drawn in.
"It's going to be fascinating for me," Alan said. "I think we're going to be the first alternative here."
The owners of Vitality Bowls are equally enthusiastic.
"Ivan is exactly the right entrepreneur to grow the brand in Vacaville," Tara Gilad said in a press statement. "His business intellect is outstanding. We are eager to see Ivan fill the demand for a healthy fast casual café in Vacaville."
There are currently more than 52 Vitality Bowls restaurants across the United States with more than 100 franchise units under development.
For more information, visit www.vitalitybowls.com.