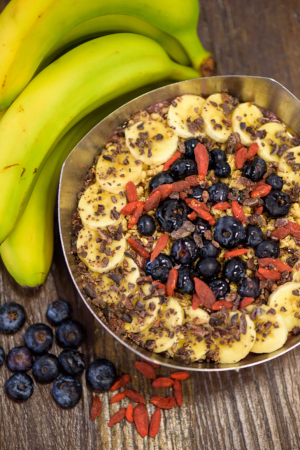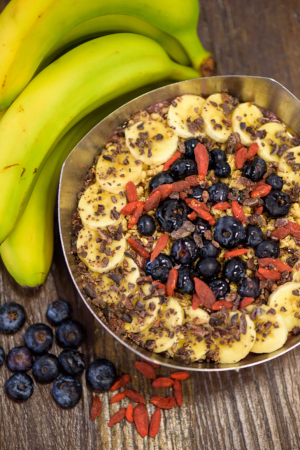 By Doug Coats at Lake Norman Citizen – A Cornelius couple is bringing more healthy options to the West Catawba corridor.
Ted and Karine Flinter opened their Vitality Bowls franchise in late July in a space formerly occupied by Starbucks. They're offering more than a dozen kinds of acaí bowls, along with smoothies, paninis, soups and salads. But customers can get more than just a boost of complex nutrients with a catchy name. They'll have the opportunity to hear the stories of international travel the Flinters have experienced.
Ted was a major in the U.S. Marine Corps, and he landed a job training foreign militaries and police. After meeting Karine in the Democratic Republic of the Congo, they've also lived in Kosovo, Abu Dhabi and eastern Africa.
Owning a business locally means they can get to know the community where they've owned a home since 2013 better. They have plans on building two more stores in the Charlotte area.
"We have three young children, and every summer we come here for two months since it's so hot in the Middle East," Ted Flinter said. "We've gotten to know our neighbors a lot better since we opened the café. That's been a great element of getting our café open."
Vitality Bowls is offering dine-in service with their patio space, but also online ordering for pickup or delivery. Flinter said the store is filling a demand for healthy eating, and with gyms opening this month at 30 percent capacity, looks to capitalize on fellow health-driven businesses. They offer 10 percent off to customers who show proof of a gym membership.
"We picked this location because a lot of the gyms, Planet Fitness and other fitness studios are around us," he said. "It was a little bit concerning when we were opening up, with them slowly opening up and seeing a lot of new faces of people coming in from gyms."
The bowls range from $7.49 for a small dessert or breakfast bowl, to most of the menu costing $12.49 for a medium and $13.99 for a large. Some of the most popular, Flinter said, are the Vitality Bowl (strawberries, banana, flax seed), Nutty Bowl (banana, strawberries, peanut butter) and Warrior Bowl (raspberries, broccoli, almond milk).
For a liquefied treat, there's the Matcha Madness smoothie and paninis for the savory crowd.
"It's looking at taking real foods, organic where we can, non-GMO, and taking a healthy approach to providing a menu that's appealing to people looking to follow dietary guidelines that are going to give them a balanced diet and healthy foods," Flinter said.
Though "Main Street Lake Norman" may not look anything like the streets of the Middle East or African jungles, Flinter said his former life can still be beneficial in the food business.
"My wife and I have traveled the world and love learning stories and sharing ours," he said. "We've got a great audience, and when you travel the world and meet lots of people, we like to think our store is welcoming and have had a cross section of people coming in and out of the world."