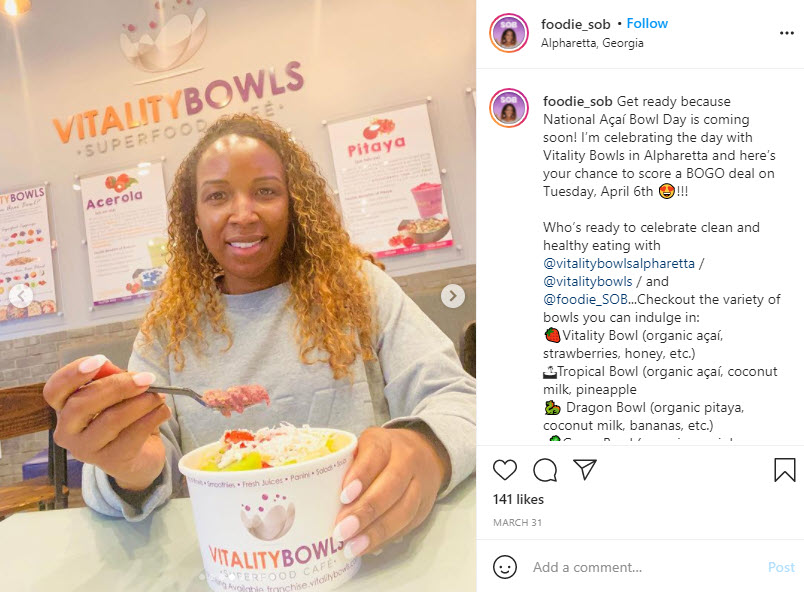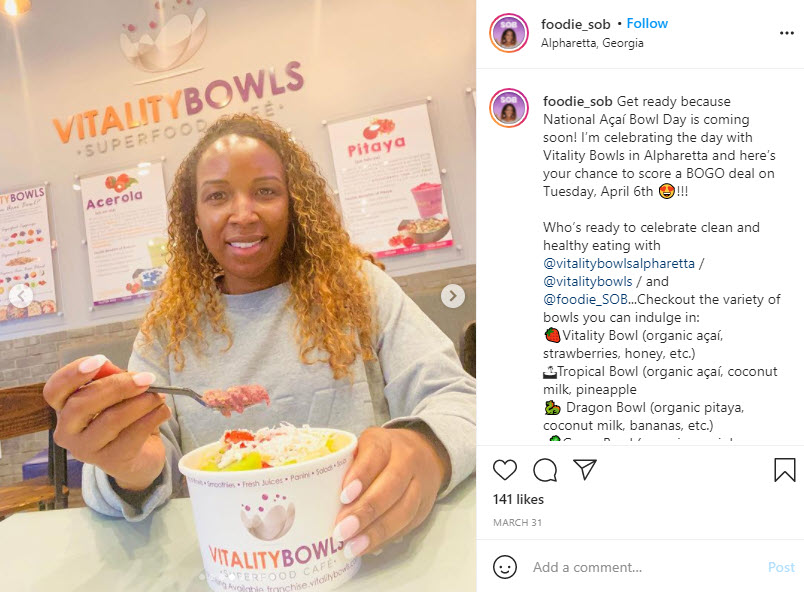 See full Post Here.
From @foodie_sob, Foodie Straight Outta Brooklyn: "Get ready because National Açaí Bowl Day is coming soon! I'm celebrating the day with Vitality Bowls in Alpharetta and here's your chance to score a BOGO deal on Tuesday, April 6th!!!
Who's ready to celebrate clean and healthy eating with @vitalitybowlsalpharetta / @vitalitybowls / and @foodie_SOB…Checkout the variety of bowls you can indulge in:
Vitality Bowl (organic açaí, strawberries, honey, etc.)
Tropical Bowl (organic açaí, coconut milk, pineapple
Dragon Bowl (organic pitaya, coconut milk, bananas, etc.)
Green Bowl (organic graviola, spirulina, hemp seeds, etc.)
Nutty Bowl (organic açaí, almond milk, peanut butter, etc.)
Which bowl will you select and who will you share your BOGO with?
Pics of my favorite bowls:
***Tropical Bowl w/ kiwi added (pic 1-5)
***BOGO Promo (pic 6)
***Warrior Açaí Bowl w/ peanut butter added (pic 7)
***The Love Bowl (pic 8)
*Note: You must be a loyalty customers in order to receive the BOGO offer. Check website for information and participating locations near you!
°
°
°
°
°
Thanks to @vitalitybowlsalpharetta / @vitalitybowls for requesting me to promote upcoming offer. {Gifted} #foodiesob#vitalitybowls#VBAcaiBowlDay#vitality#alpharetta#atl#sponsored#promo#bogo#bestfoodatlanta#foodietribe#foodie#smoothie#smoothiebowls#acaibowls#freshfruit#juicebar#delicious#food#superfood#postworkout#vegan#organic#healthy#cleanliving#healthylifestyle#healthyfood#strength#wellness"