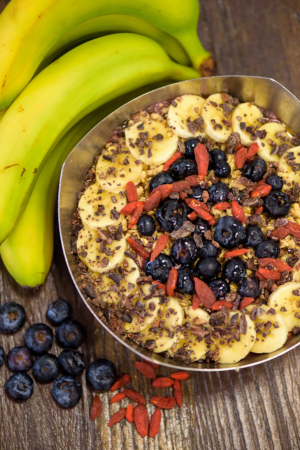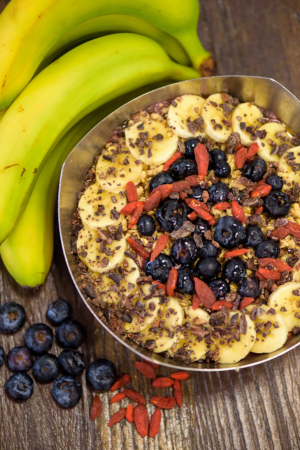 March 18, 2021 // Franchising.com // DANVILLE, Calif. – Vitality Bowls is joining forces with Nature's Path Organic Foods to offer superfood café customers extra granola on any Vitality Bowls menu item for free.
Offered only on Saturday, March 20, Vitality Bowls customers will be able to add extra Nature's Path Organic Hemp granola to their favorite smoothie or açaí bowl all day long. Made with whole grain rolled oats, flax seeds and hemp seeds, Nature's Path Organic Hemp granola is certified organic, non-GMO and free of artificial preservatives or additives.
"Our rich açaí bowls and smoothies, fresh fruit and superfood toppings pair perfectly with the crunch of Nature's Path granola – it really is one of our most popular add-ons," said Tara Gilad, president and co-founder of Vitality Bowls. "We are excited to share the love of extra granola with dedicated Vitality Bowls enthusiasts on March 20 and encourage new fans to try it, too."
Customers can redeem the free granola add-on at their nearest participating Vitality Bowls location on March 20 with the purchase of a bowl or smoothie.
Originating in Northern California, Vitality Bowls has solidified itself as America's superfood café – combining a dynamic café vibe with a unique collection of menu items containing high nutritional values and extraordinary tastes. The brand specializes in açaí bowls – a thick blend of the Amazon's antioxidant-rich açaí berry, topped with a variety of superfoods. All items are made to order and prepared in a kitchen designed to avoid cross contact for customers with food allergies. All of the brand's bowls and smoothies are free of ingredient fillers such as ice, frozen yogurt or artificial preservatives, giving the purest taste possible.
The menu features the widest variety of unique superfoods, including organic mangosteen, organic camu camu, organic spirulina, organic aronia, organic moringa, organic maca, bee pollen and more. Guests can choose from a variety of delectable options, such as the Dragon Bowl (featuring pitaya, coconut milk and bananas) and the signature Vitality Bowl (with organic açaí, strawberries and honey). Plus, fresh juices, smoothies, soups, panini and salads are available in each café.
See full article here.