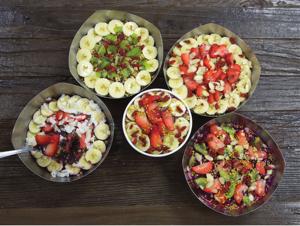 BY THE DEKALB NEIGHBOR – A café that specializes in superfoods and safe alternatives for people with food allergies has opened in Dunwoody.
Vitality Bowls, which offers an array of antioxidant-rich menu items including smoothies, fresh juices, soups, salads, paninis and breakfast items, is now open at 123 Perimeter Center West
Suite 300.
For owners of the Dunwoody franchise, John and Carol Young, the restaurant is a safe place for those with food allergies and healthy fast casual option for the perimeter area.
"Vitality Bowls really focuses on fresh ingredients and avoiding cross contamination, so someone with a nut or gluten allergy, for example, can find multiple delicious items on the menu," said Young. "It also provides a quick dining option that is healthy for busy costumers on the go."
All items on the menu are made to order and no ingredient fillers such as ice, frozen yogurt, added sugar or artificial preservatives are used.
The menu features a variety of bowl options, such as the Green Bowl with organic açaí, goji berries and bee pollen, the Dragon Bowl, featuring organic pitaya, coconut milk and bananas, and the signature Vitality Bowl with organic açaí, strawberries and honey.
John and Carol Young, who live in Peachtree City, said they chose to open a Vitality Bowls franchise in Dunwoody because the area has plenty of residents and professionals looking for healthier breakfast and lunch options.
"People have come in and thanked us for opening up in this location, so we've seen a really positive response since our soft opening in September," said Carol Young.
"John and Carol are exactly the right entrepreneurs to grow the brand in Dunwoody," said Tara Gilad, co-founder of Vitality Bowls. "Their business intellect is outstanding and their passion for customer service is remarkable. We are eager to see them fill the growing demand for a healthy fast casual café in Dunwoody."
There are currently about 50 Vitality Bowls restaurants across the United States with 50-plus franchise units under development.
For more information, visit www.vitalitybowls.com.