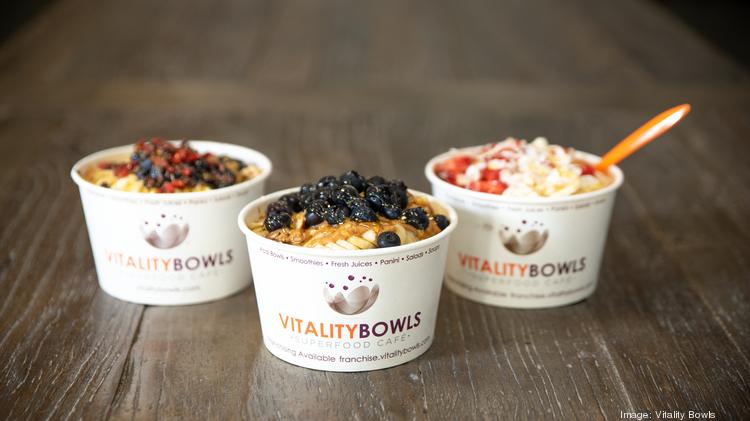 From Sacramento Business Journal, by Sonya Sorich – A Danville-based "superfood cafe" franchise currently has one Sacramento-area location, but its president hopes that will change soon.
"We find the sacramento market to be a prime market for us," said Tara Gilad, president and co-founder of Vitality Bowls.
The chain entered the area with a Roseville site that opened in 2016. Its menu includes smoothies, juices, snacks and acai bowls filled with "superfoods" such as blueberries and kale, which are rich in nutrients.
Gilad said she's looking for additional "health-minded" franchisees to open new sites in the greater Sacramento area. She hopes to have one more Vitality Bowls location open in the area this year, and four or five more local sites open in 2022.
"It's the right kind of energy that we're looking for in a market," Gilad said of the Sacramento area, citing a local focus on healthy lifestyles.
The company is still searching for local operators, and hasn't finalized any real estate plans, Gilad said. But she said Vitality Bowls locations are generally 1,200 square feet, in high-traffic areas with good parking and proximity to residential areas, offices and schools.
Vitality Bowls is focusing on some specific places as it eyes additional expansion, including Roseville, Folsom, Elk Grove, Natomas and the Arden area, according to the company.
The average investment range to open a Vitality Bowls location is $170,100 to $604,000, according to the company's website.
Vitality Bowls has 146 locations including sites that are open or in development. Gilad said she's optimistic about the company's future, as people continue to shift toward healthier eating habits. Like most businesses, Vitality Bowls was impacted by the pandemic, but Gilad suggested the impact could have been worse. "I don't think we got hit as hard as some other people got hit," she said.
The company continues to focus on efficiency, as well as quality, Gilad said.
See full article here.