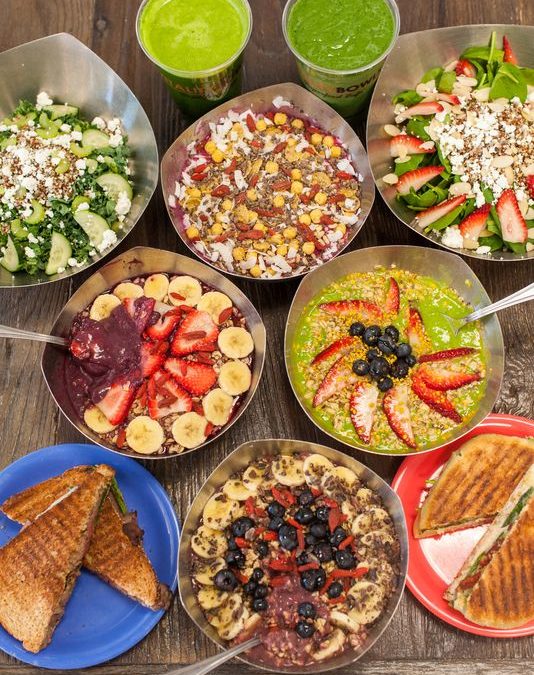 BY QSR MAGAZINE –  The rise of health-conscious eating has been a boon to the produce industry as Americans seek more fresh and healthy ingredients in their meals.
But while vegetables are a natural fit in limited service—whether as toppings on a sandwich, burger, or pizza or as a side dish or salad—fruits are less so. The sweet and tart flavor profile of most fruits has generally confined them to either the breakfast menu (think parfaits) or as a standalone side item (apple slices, anyone?).
But a new quick-serve segment has emerged as a starring vehicle for fruit: the juice-smoothie-bowl category.
Juice brands started to spring up 20 years ago as the health craze took off and Americans sought more convenient ways to consume beneficial nutrients. The movement thrived on the cold-pressing technique to juicing, which eliminates the juice's exposure to heat and air, allowing it to retain nutrients.
Vitality Bowls, a San Ramon, California–based "superfood cafe," was founded by Roy and Tara Gilad when they discovered that their daughter had severe food allergies. Uriah Blum, vice president of operations, says smoothie bowls are the "perfect platform" for uncommon superfoods like açai, moringa, acerola, and aronia.
"We have South American Graviola (soursop), which tastes like pineapple-watermelon-strawberry and is a delicious base for our bowls and smoothies," he says. "One of our new smoothies, the Matcha Madness, combines matcha—an earthy green tea—with salty almond butter and sweet dates. Maca is a Peruvian root that tastes like savory butterscotch, which we combine with fresh-juiced apples and blueberries in our Maca Me [smoothie]." READ MORE