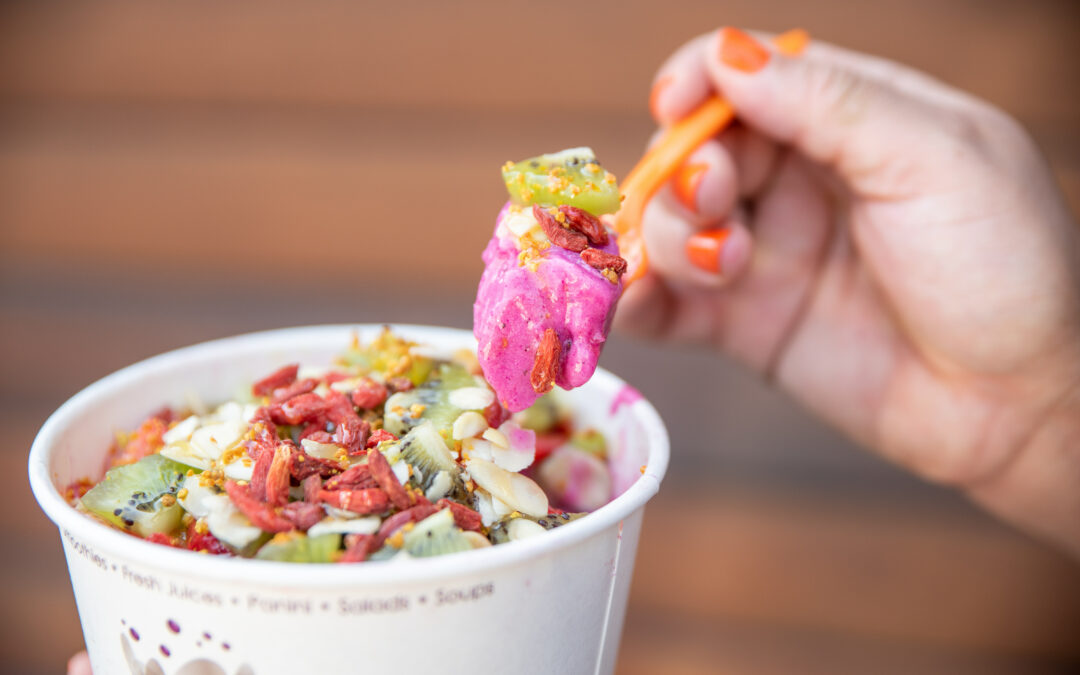 From Industry News on April 6, 2023:
Vitality Bowls, a leading superfood café that provides healthy options nationwide, cements itself as the supreme açaí bowl destination for National Açaí Bowl Day with a lineup of giveaways and deals. To kick-off the beloved holiday, Vitality Bowls is offering special promotions and daily social media giveaways beginning April 1 and ending on National Açaí Bowl Day (April 6).
The formal National Açaí Bowl Day celebration on Thursday, April 6 includes an exclusive Buy One, Get One 50% off acai bowl reward for any size Vitality or Nutty Bowl. Customers must sign up for the brand's Loyalty Program to redeem the promotion by April 6.
"National Açaí Bowl Day is our favorite day of the year, and we love having the opportunity to maximize our celebration by offering our fans a week worth of festivities and an exclusive offer for our loyal guests," says Tara Gilad, co-founder and president of Vitality Bowls. "For açaí bowl fans and enthusiasts, we look forward to sharing our delicious and nutritious bowls served up with giveaways and great deals."

Vitality Bowls fans can also visit the brand's Instagram page, @vitalitybowls, every day from April 1 to April 6 for special giveaways. Guests can enter each day by tagging one friend in the comments section of the day's post and following the Vitality Bowls Instagram page, for a chance to win a free açaí bowl. For bonus points, customers have the option to also share the Instagram post to their own Story, tagging @vitalitybowls and using the hashtag #NationalAcaiBowlDay to increase their chances of winning that day's prize. The brand will select one new winner every day, and all winners will be contacted via Instagram by Tuesday, April 11.
In addition to the week-long açaí bowl specials, Vitality Bowls will also crown its second annual Superfood Superhero. Superfood Superheroes are true Vitality Bowls superfans who embody the brand's mission to lead a healthy lifestyle and are a current Loyalty Member who has purchased the most açaí bowls or smoothies in one calendar year. This year's Superfood Hero will be awarded with their favorite menu item free for a year (one bowl or smoothie per month for 12 months).
Vitality Bowls offers made-to-order healthy favorites for every meal of the day, featuring the widest variety of unique superfoods. Guests can choose from a range of delectable options, such as the Dragon Bowl (featuring pitaya, mango juice, coconut milk, bananas, pineapple and raspberries) and their signature Vitality Bowl (with organic açaí, bananas, strawberries and organic hemp granola). Plus, all açaí bowls and smoothies are prepared without any ingredient fillers like ice, frozen yogurt, or artificial preservatives, giving the purest taste possible.
In addition to açaí bowls and smoothies, the brand boasts a diverse menu that includes warm and savory items including salads, grain bowls, wraps and toasts loaded with nutritional ingredients and a wide range of superfood toppings. Options include the crowd-pleasing Vitality Wrap, made with hummus, avocado, super greens, grains, roasted potato, radish, pickled red onion, lemon tahini vinaigrette, garlic aioli and superseed crunch in a tomato basil tortilla.
There are currently more than 130 Vitality Bowls locations open or in development across the United States.