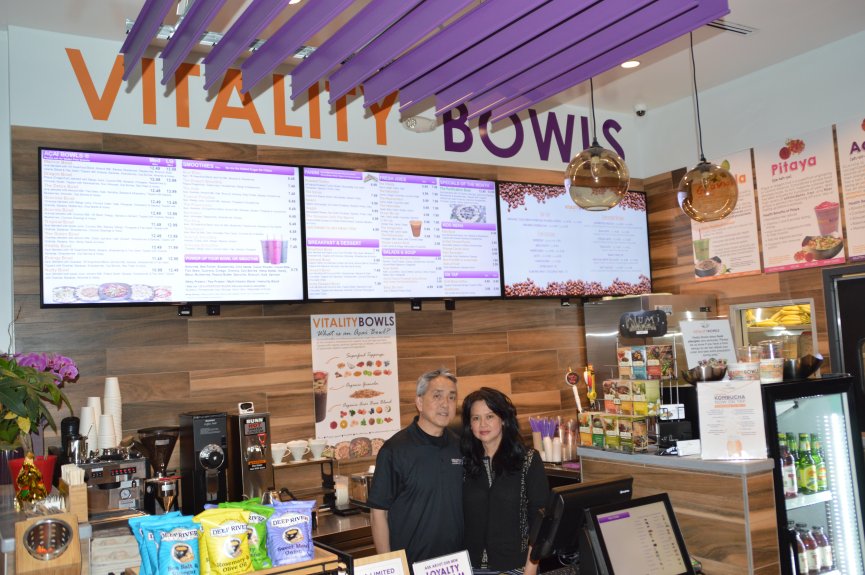 BY THE MERCURY NEWS – Vitality Bowls, the "superfood" restaurant launched in San Ramon by a couple whose daughter suffers from food allergies, has enlisted new allergy advocates as the enterprise expands throughout the Bay Area.
Brian and Kathy Hom, the San Jose parents who became EpiPen crusaders after their son B.J. died of a peanut allergy reaction while vacationing in Mexico, have joined forces with founders Tara and Roy Gilad to open two Vitality Bowls in South San Jose. Their first is at the new Village Oaks Plaza on Cottle Road and the second, due in April, will be on Cherry Avenue.
Besides offering antioxidant-rich acai bowls and other health-based fare, the Homs hope to provide a safe haven for diners with allergies.
That's what spurred Tara Gilad in the first place: "Every place she went to eat, it wasn't safe for her daughter," says Uriah Blum, Gilad's brother and now a Vitality exec.
So they created a menu of fruit-based bowls (the Warrior Bowl and the Dragon Bowl are among the most popular), smoothies, panini, salads and soup. All are made in non-cross-contamination kitchens, and no artificial preservatives or added sweeteners are used.
The Homs, who have raised more than $1 million for the allergy fight in the hope that B.J.'s death will help save others, now welcome diners who are driving up to two hours for food that can be made nut-free, dairy-free and gluten-free.
And they go a step further. "I stock the EpiPen here now," Brian Hom says.
Details: Open 8 a.m.-8 p.m. Monday-Saturday, 10 a.m.-7 p.m. Sunday at 5660 Cottle Road. Other Vitality Bowls are in Walnut Creek, Pleasanton, Castro Valley, Cupertino, Danville, Dublin, Lafayette, Pleasant Hill, Newark, Palo Alto and Redwood City.